The final test for a license consisted of three solo flights totaling 40 minutes and two figure eights. If one could take the machine into the air, fly around the field and land without killing oneself or destroying the aircraft, he was considered to have "passed" and to be a pilot.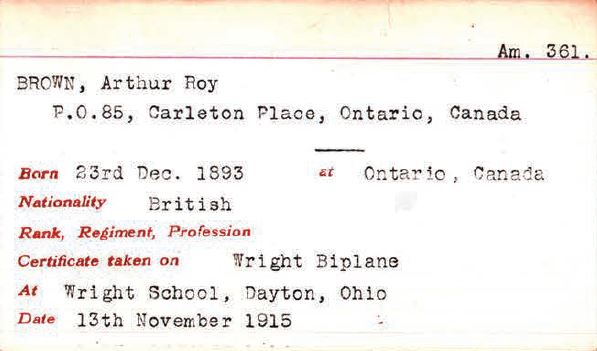 Armed with their certificates, Brown, Edwards and Galbraith approached the Royal navy Air Service, and were signed on and enlisted. Brown and galbraith sailed for England on November 22, 1915 on the American Line ship "The Finland". In the future, when learning of the numbers of young men from town who served with the British Aerial Services, some editorials of the period dubbed Carleton Place "A Nursery of the Air Force" .
Total costs at the school exceeded $600, quite a sum of money at the time. Students slept in the hangers, and meals were provided by local farmers.